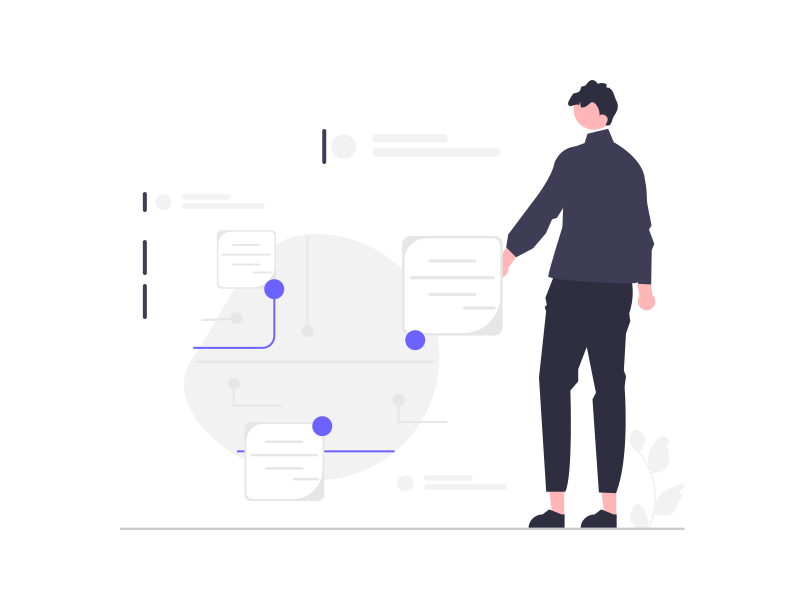 Digital transformation Service
Digital transformation is a process through which organizations develop a digital presence. This involves leveraging emerging digital technologies to enhance business operations as well as create new revenue streams.
Digital transformation can be defined as the strategic process of re-engineering an organization's business processes, systems, and IT solutions in order to meet the changing needs of the business and consumers over the next few years. It has five distinct phases:
As the pace of technological innovation continues to accelerate, organizations are constantly faced with the challenge of reinventing themselves. In order to sustain competitive advantage, companies need to adopt digital technologies that improve customer experience and increase revenue. Digital transformation is the primary way organizations bridge this digital divide and ensure they can retain their competitive edge in the face of constant change.
Digital transformation has become the buzzword for modern organizations. Businesses are increasingly under pressure to innovate, pivot, and compete in an environment that is more digital than ever before. The rise of disruptive consumer technology businesses like e-commerce, social media, and online video have only increased the pace of change at the pace of business. No business can afford to stand still these days and resist change; it is as simple as that!
But transformation doesn't come free nor should it be embarked on lightly or ignored. A major concern among many is whether it is possible to implement a successful digital transformation at all. Is it even worth attempting? These are just some of the questions individuals who want to transform their organization must answer before setting out on their journey.
A digital transformation service provider is a company that provides software development and IT-related services. Digital transformation services include consulting, design, implementation, implementation support, maintenance, and upgrades of current systems.
Digital transformation services range from simple infrastructure to complete system redesigns. This includes everything from business strategy to user experience design.
Digital transformation service providers are often referred to as digital agencies or digital consultants.
There are many different types of digital transformation services available including:
– Software development – Application design – Mobile app development – IoT sensor integration – Security audits and penetration testing – Remote support and training – API management – Web application hosting
Digital transformation is a multi-layered process that encompasses all aspects of the business. It is a term often used to refer to the complete overhaul of a company's business processes and culture through the use of digital tools. Digital transformation is the latest buzzword in the business world, and businesses are at the forefront of moving their operations online. But it is often difficult for businesses to get the most out of this potentially game-changing process. This is where Novatia Consulting comes in. We are a leading provider of digital transformation services in Nigeria.
We have a wealth of experience working with companies in all industries, helping them implement and scale their digital strategies so that they can take full advantage of the opportunities that come with this new wave of digital transformation. If you are ready to take your business to the next level, or if you simply want to improve the efficiency of your operations, contact Novatia Consulting today to learn more about how we can help you.
Why you need Novatia Consulting
Novatia Consulting's main goal is to help businesses reach their full potential by developing detailed business plans and strategic vision statements. Corporate finance services include financial analysis, budgeting, forecasting, and funding. Business growth services include market research, ideation workshops, and business plan writing. Market research includes surveys, focus groups, and interviews.
Novatia Consulting provides its clients with high-quality, practical solutions for all types of businesses. This includes small- to medium-sized businesses as well as large corporations such as healthcare and technology companies.
Digital transformation is at the center of innovation and competition in every industry today. Companies that can successfully integrate digital technology into their business processes and operations will be able to maximize efficiency, improve customer experience and increase profitability.
The need for companies to embrace digital transformation has never been greater. The proliferation of mobile devices, the growth of cloud-based computing, and the advent of big data have created new opportunities for organizations to engage with customers in new ways. But these changes will also create new challenges for companies as they strive to keep up with the latest advances in technology. If you're looking to take advantage of these trends, you'll need a company that is expertly equipped for the task at hand. That's where Novatia Consulting comes in. As a leading provider of digital transformation services in Nigeria, we are here to help you navigate this exciting new frontier and ensure that your business remains competitive in the long term.
Conclusion
In today's digital world, it is difficult to imagine a business that doesn't have a website. With the creation of a fully functional website, a company is able to establish itself in the eyes of its potential customers. However, a website is just the beginning when it comes to the digital transformation of a business. To be successful in today's digital world, a business needs to take an integrated approach that spans every single aspect of its operations.
To achieve this, you need a company that is not only capable of creating an engaging online experience for its clients, but also one that is able to integrate the latest digital tools into existing business operations. That's where the services of a digital transformation firm like ours come in. We're here to help you build your brand, optimize your website, and embrace the changes that are coming your way. Whether you need help with website design, SEO copywriting, social media management, or any other digital task, our team of expert consultants is here to help you succeed.